BIOGRAPHY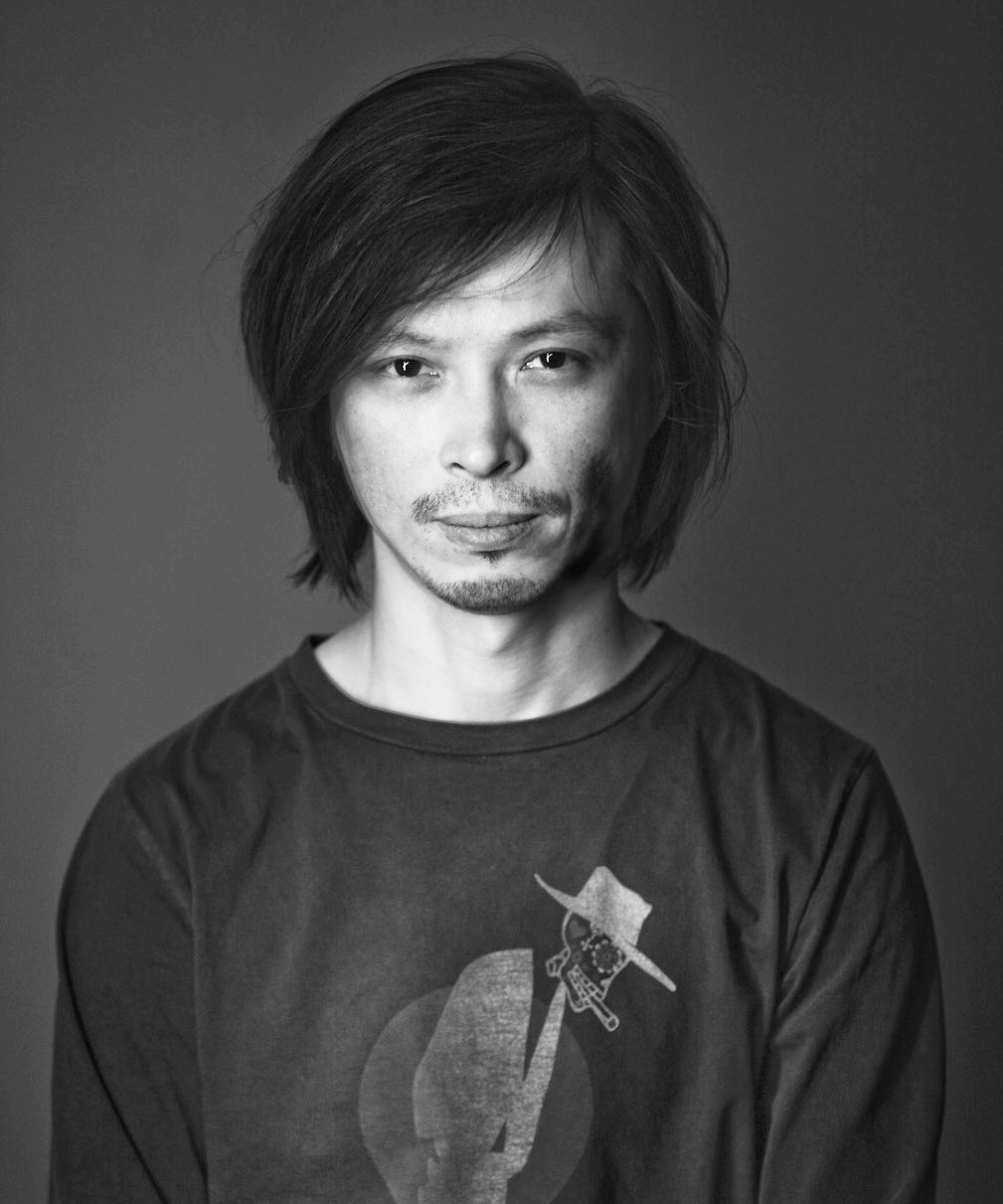 Through his long career over 25 years as a DJ and a track maker, Fumiya Tanaka has been the most prolific artist on the front line of the electric music scene.
His signature DJ style unfolds in simultaneous response between the sound with solid groove and the dance floor is extraordinary.
Still the floor orientated simple groove prevails, his recent works and his selection of the music has been refined after his experimental and more housy groove music under the aliases as Karafuto or Indivisual orchestra towards furthermore musical expantion.
The various elements are combined in his sound and sometimes two opposed elements exist in a minimal format which is a reflection of the inovator's desire to seek the new possibilities.
After moving to Berlin he performs worldwide including his local Panorama Bar in Berlin and other parties and festivals in Europe i.e. England, France, Romainia and Russia,North America and South America.
On the other hand he has been organising his own party in Japan called Chaos for over 25 years regularly plays in Japan.
In recent years his creative works are on his own label, Sundance. He released Four 12 inch single and Two album on the infamous Perlon label which is run by Zip and Marcus Nikolai,Chris Rehberger.
Other remix works has been done for Brawther,Vlad Caia,Nastia to name but a few. He acts as a Unit, Dartriix with Yoshihiro Hanno,Tofu Production with Thomas Melchior releasing their own single and remix works.
TIMELINE
Jul 2021

GREEN TOWER / DREAM PUNK EP by LAST FRONT(FUMIYA TANAKA & TAMOTU IDE & TAKEHITO MIYAGI) on Sundance


Nov 2008

"Unknown 3" Release Tour
11/21(fri) Air : Fukuoka
11/28(fri) Precious Hall : Sapporo
11/29(sat) Water : Kashiwa
12/05(fri) Club Mago : Nagoya
12/06(sat) Praha : Niigata
12/12(fri) World : Kyoto
12/13(sat) Troop Cafe : Kobe
12/19(fri) Freedom : Oita
12/20(sat) Club Add : Sendai
12/22(mon) Mars : Okayama
12/26(fri) Sunsui : Osaka
12/27(sat) Unit : Tokyo
12/31(wed) Liquidroom : Tokyo

Aug 2008

'CHAOS' at Yellow in Tokyo and Sunsui in Osaka with Melchior Productions Ltd.


Jun 2008

Released "DARTRIIX EP.2" (12") by DARTRIIX [Unit with RADIQ] on op.disc
'DISTORITION' Party at Yellow in Tokyo.

Dec 2007

'CHAOS' Party at Yellow in Tokyo and sunsui in Osaka


Nov 2007

Released 1st Album"DARTRIIX"(CD)by DARTRIIX [Unit with RADIQ] on op.disc
'op.disc showcase hub'at UNIT in Tokyo and sunsui in Osaka
DARTRIIX's LIVE for hub.

Oct 2007

fumiya tanaka via release party at UNIT
DJ(UNIT) : Fumiya Tanaka, Taro, Yoshiki, Keita Magara, DJ(SALOON) : DJ PI-GE(Organza / TRES VIBES), Yone-ko(The Suffragettes / Runch), Aquira(Realgrooves / NORDFORM)

Sep 2007

'CHAOS' Party at Yellow in Tokyo and sunsui in Osaka with Zip
Released DVD "via" on Soundscape

Aug 2007

Released Fumiya Tanaka's 4th Mix CD "mur mur - convasation mix"on TOREMA RECORDS/Soundscape


May 2007

'CHAOS' Party at Yellow in Tokyo and sunsui in Osaka with Bruno Pronsato
Released"DARTRIIX EP.1"(12")by DARTRIIX [Unit with RADIQ] on op.disc

Oct 2006

INDIVIDUAL ORCHESTRA's 1st LIVE at ASAGIRI JAM


Aug 2006

Released KARAFUTO's 2nd Mix CD "Shift to the other time - KARAFUTO Live mix at UNIT 28.1.2006"on disques corde


Jul 2006

'CHaOS'Party at Sunsui in Osaka and Yellow in Tokyo with BRUNO PRONSATO
Released"MIND THE GAP - singles 2000-2006"(CD)by INDIVIDUAL ORCHESTRA on Revirth

May 2006

'CHaOS'Party at Sunsui in Osaka and Yellow in Tokyo with AOKI TAKAMASA and TODD BODINE
Released "INDIVIDUAL ORCHESTRA" (12")by INDIVIDUAL ORCHESTRA on Revirth

Mar 2006

'CHaOS' Party at Yellow in Tokyo and sunsui in Osaka with RADIQ and SOMEONE ELSE
Released"Unknown Possibility vol.3-2"(12")by Fumiya Tanaka

Dec 2005

op.disc showcase hub'at UNIT in Tokyo and sunsui in Osaka
'CHaOS' Party at Yellow in Tokyo and Rockets in Osaka with DIMBIMAN

May 2005

'CHaOS' Party at Yellow in Tokyo and Rockets in Osaka with WIGHNOMY BROTHERS


Apr 2005

Started op.disc with Yoshihiro HANNO
and released "Fumiya Tanaka & RADIQ" (12")by Fumiya Tanaka & RADIQ

Dec 2004

'CHAOS'Party at Yellow in Tokyo and Rockets in Osaka with AOKI TAKAMASA and GEOFF WHITE


Sep 2003

'TOREMA RECORDS since1993 BIRTHDAY PARTY '03' at LIQUIDROOM in Tokyo and Rockets in Osaka
with SUTEKH, STEWART WALKER, Yoshihiro HANNO, LUCIANO, ANDY VAZ, STEVE BICKNELL and GARY MARTIN
Fumiya Tanaka's 1st LIVE at LIQUIDROOM in Tokyo
Released"music from a view"(CD, LP & DVD)by INDIVIDUAL ORCHESTRA on Revirth

May 2003

'CHAOS'Party at LIQUIDROOM in Tokyo and Rockets in Osaka with TWERK and PORTABLE
Released"Sunshining. Some building. Blue sky"(12")by INDIVIDUAL ORCHESTRA on Revirth

Sep 2002

'TOREMA RECORDS since1993 BIRTHDAY PARTY '02' at LIQUIDROOM in Tokyo and Rockets in Osaka with STEWRT WALKER


Aug 2002

'MIX. SOUND. SPACE. TOUR' at Yellow in Tokyo and Rockets in Osaka etc. with Yoshihiro HANNO etc.


May 2002

'CHAOS' Party at LIQUIDROOM in Tokyo and Rockets in Osaka with RICARDO VILLALOBOS, ARCHETYPE(Live), YOSHIKI


Sep 2001

TOREMA RECORDS since 1993 BIRTHDAY PARTY'01
DJs
Fumiya Tanaka,Steve Bicknell
LIVE Twerk,
Fri.21.september at Club Rockets
Sun.23.september at Liquid Room

May 2001

'CHAOS' Party at LIQUID ROOM in Tokyo and CLUB ROCKETS in Osaka with JASPER and STEWART WALKER


Dec 2000

Mask / DJs : KARAFUTO, TARO, KENSEI(INDOPEPSYCHICS), Live : COMPUTER SOUP
Thursday 28 December, 2000 at Yellow

Sep 2000

'TOREMA RECORDS since1993 BIRTHDAY PARTY '00'
FRIDAY 22 SEP, at LIQUID ROOM in Tokyo, SATURDAY 23 SEP, at ROCKETS in Osaka with STEVE BICKNELL, YOSHIKI and THOMAS BRINKMANN(Live)

Aug 2000

Released Fumiya Tanaka's 2nd Album"UNKNOWN POSSIBILITY vol.2"(CD)in Japan
Released"Light Orange"(12")and"Light Gray"(12")by KARAFUTO

Jul 2000

"UNKNOWN POSSIBILITY vol.2" JAPAN TOUR
7.28 - FRI @ BUMP : NAHA
8.04 - FRI @ LIQUID ROOM : TOKYO
8.05 - SAT @ GYM : KANAZAWA
8.11 - FRI @ PRECIOUS HALL : SAPPORO
8.13 - SUN @ CHOP : FUKUI
8.14 - MON @ CLUB ROCKETS : OSAKA
8.18 - FRI @ BILLIES : MORIOKA
8.19 - SAT @ GHETTO : SENDAI
8.25 - FRI @ PLANET CAFE : HAMAMATSU

May 2000

'CHAOS' Party at LIQUIDROOM in Tokyo and Rockets in Osaka
with OLIVER HO, MARCO CAROLA, KEITA
Released"10inch WORKS"(CD)by KARAFUTO

Feb 2000

Released "Light Pink" (12")by KARAFUTO
Released"INDIVIDUAL ORCHESTRA"(12")by INDIVIDUAL ORCHESTRA on Revirth

Oct 1999

Mask / DJs : KARAFUTO, TARO, Live : NUMB SUTRA&SAIDRUM(Revirth)
Friday 1 October,1999 at Yellow
Saturday 2 October,1999 at ROCKETS

Sep 1999

'TOREMA RECORDS since1993 BIRTHDAY PARTY '99'
SATURDAY 11 SEP, at ROCKETS in Osaka, TUESDAY 14 SEP, CLUB CITTA' KAWASAKI in Kawasaki with STEVE BICKNELL, AUTECHRE(Live), YOSHIKI, KEITA

Aug 1999

Mask / DJs : KARAFUTO, TARO, Live : CHILD'S VIEW(CHILDISC)
Thursday 26 August, 1999 at Yellow
Friday 27 August, 1999 at ROCKETS

Jul 1999

'CHAOS' Party with AUTECHRE Live (WARP)
Friday 23 JULY at ROCKETS
Saturday 24 JULY at LIQUIDROOM

Jun 1999

Mask / DJs : KARAFUTO, TARO, Live : CHILD'S VIEW
Thursday 3 June,1999 at Yellow
Friday 4 June,1999 at ROCKETS

May 1999

'CHAOS' Party with OLIVER HO, D-KNOX, TARO, YOSHIKI at ROCKETS and CLUB CITTA' KAWASAKI
Released "Player" (12")by Fumiya Tanaka

Apr 1999

Mask / DJs : KARAFUTO , TARO , Live : SPEEDMETER
Friday 9 April,1999 at Yellow
Saturday 10 April,1999 at ROCKET

Sep 1998

'TOREMA RECORDS since1993 BIRTHDAY PARTY '98'
FRIDAY 11 SEP, at BAY SIDE JENNY in Osaka, SATURDAY 12 SEP, at PRECIOUS HALL in Sapporo, MONDAY 14 SEP, at CLUB CITTA' KAWASAKI in Kawasaki with STEVE BICKNELL, SURGEON, JAY DENHAM, YOSHIKI, KEITA, TARO

May 1998

'CHAOS' Party with JAY DENHAM and A HI-LO PRODUCTION(Live)
Friday 1 May at BAY SIDE JENNY
Sunday 3 May at CLUB CITTA KAWASAKI

Apr 1998

Started a regular party 'Mask' DJing as KARAFUTO at Yellow in Tokyo


Sep 1997

'TOREMA RECORDS since1993 BIRTHDAY PARTY '97'
FRIDAY 12 SEP, at CLUB CITTA' KAWASAKI in Kawasaki SATURDAY 13 SEP, at BAY SIDE JENNY in Osaka with STEVE BICKNELL, DJ HELL, MIKE INC(Live)

Aug 1997

Finished the series of Party -CHAOS WEST- at Rockets in Osaka


Aug 1997

Finished the series of Party [DISTORTION] at Yellow in Tokyo


Sep 1996

'TOREMA RECORDS since1993 BIRTHDAY PARTY '96'at BAY SIDE JENNY in Osaka
with STEVE BICKNELL, CLAUDE YOUNG, MICKIEE(TAKKYU ISHINO), KEN ISHII, AKIO MILAN PAAK(Live), and TOUCH DROPS DJ's(YOSHIKI, KEITA, TARO)

Oct 1995

Released "Speaker" (12")by SPEAKER(with AKIO MILAN PAAK)
Moved from Osaka to Tokyo The first DJ tour in Europe

Aug 1995

-CHAOS WEST- TOREMA RECORDS 2ND ANIVERSARY 3DAYS BIRTHDAY PARTY at ROCKETS

11 Aug, (FRI) DJ:
FUMIYA TANAKA (TOREMA, UNTITLED RECORDS)
DERRICK MAY (TRANSMAT, R&S RECORDS)

12 Aug, (SAT) DJ:
FUMIYA TANAKA (TOREMA, UNTITLED RECORDS)
TAKKYU ISHINO (TOREMA RECORDS DJ's)
KEN ISHII (R&S, SUBLIME, TOREMA RECORDS)

13 Aug, (SUN) DJ:
HIROTAKA
YOSHIKI
NAO
etc. TOREMA RECORDS DJ's
PERFORMANCE,
AKIO MILAN PARK (TOREMA, UNTILTLED RECORDS)
SUB VOICE ELECTRONIC MUSIC (SUB VOICE RECORDS)
MAN MACHINE (UNTITLED RECORDS)

Jul 1995

Released "Micro" (12") by Fumiya Tanaka
Started UNTITLED RECORDS and released a CD Various Artist"ABSTRACT SET 1"

May 1995

-CHAOS WEST- with KEN ISHII, KEN=GO→, TOBY, Yo-C, NAO, HIRO, MAMEZUKA, KIHIRA at ROCKETS
FUMIYA HAPPY BIRTHDAY SPECIAL

Oct.24 1994

Started a party [DISTORTION] at Yellow in Tokyo


Jun.24 1994

Started a party -CHAOS WEST- at Rockets in Osaka


Nov 1993

Founded TOREMA RECORDS, the first independent dance track label in Japan and released "Green Tower"(12")by LAST FRONT


Jul 1992

Started DJ professionaly in Osaka, Japan


Jul 1990

Started DJ


May.21 1972

Born in Kyoto, Japan